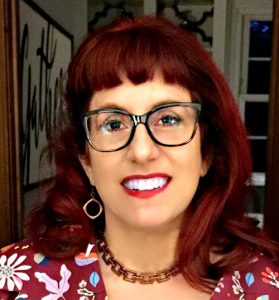 If you'd like to work together, you can contact me at am @ the-write-spot dot com.
Hi, I'm Anne-Marie Nichols. I've been a Social Media Consultant at Write Spot Media and Recipes Development Writer and Food Photographer at This Mama Cooks! for the past 15+ years.
I started blogging as a way to write on a daily basis, first on my now-defunct mommy blog, A Mama's Rant, then at group blogs like DotMoms.
After realizing that I was posting frequently about food during Thanksgiving 2004, I started my healthy recipes and lifestyle blog, This Mama Cooks! On a Diet.
Starting in June 2006, I was professionally blogging, with my first paid gig at ClubMom (now called CafeMom) at a now obsolete blog about children's books and food, called A Readable Feast.
Then an editor hired me to write stories of daily life with my kids for an online magazine called Citizen Mom's Family Journal for DuPont. I won two awards for the blog, a 2006 webaward and 2006 Silver Davey Award.
Getting paid to publish online editorial content was exciting. While I continued to do freelance work with copywriting clients creating traditional marketing communication pieces, I soon realized that producing online content and helping brands with their social media promotional needs was where my future was headed.
Social media consulting and professional food writer
Since 2006, I have worked full time as a freelance social media consultant and professional food writer who does recipe development, food photography, and food styling.
Some highlights:
I was one of the original mom bloggers at Club Mom (now CafeMom).
I was a community moderator at CafeMom.
I gave two blogging workshops at the Northern Colorado Writers Conference and spoke on panels at BlogHer, SXSW, BlogWorld Expo (NMX), and TECHmunch.
I gave the breakfast keynote talk and conducted a social media workshop at the United States Personal Chef Conference.
Via workshops or one-on-one consulting, I've taught aspiring and professional writers and business people how to start their own blogs and use social media to promote themselves and their business.
This Mama Cooks! was named one of the Top 10 Diet and Nutrition Blogs by Cision Navigator.
I was named one of Babble.com's Top 50 Mommy Food Bloggers and #8 in the Top 10 Healthiest Eating Mom Blogs.
I was named one of Babble.com's Top 100 Mommy Food Bloggers and #7 in the Top 10 Healthiest Eating Mom Blogs.
I was interviewed at Food Network's Healthy Eats Blogger Spotlight.
My frugal living tips were featured at All You Magazine in their Money-savings Tips Overheard on the Blogs both online and in their print magazine along with my frugal recipe for Greek yogurt.
I was featured at Fitness Magazine's Fit Stop as a Fit Blogger We Love: This Mama Cooks.
My post, Julia's Mousse Makes Life Better, was featured in PBS.org's Tributes to Julia Child.
I was featured in a Blogger Spotlight at Food Network's Healthy Eats blog.
I was interviewed at Gourmandize and at Diets in Review.
I've had my Simple & Healthy Split Pea Soup recipe featured at Country Living Magazine.
My Slow Cooker Porcupine Meatballs have been featured at Kansas Living Magazine.
My Healthy Split Pea Soup has been featured at Country Living Magazine.
My recipes have also been featured on Good Housekeeping, Today.com, Brit.com, The Greatist, Delish, House Beautiful, Parade, the Daily Meal, The Penny Hoarder, Redbook, Taste of Home, and more.
Here's a list of my writing clips for other blogs and websites such as Wayfair, Applegate, BlogHer, Rocky Mountain Moms Blog, DotMoms, Mom Central, and CafeMom.
I also do travel writing:
I traveled to Hawaii on behalf of the Sea Cuisine company to report on seafood and local cuisine. (Website no longer live.)
I wrote about barbecue restaurants on a trip from Colorado to Georgia for Drive The Nation at Midwest BBQTour.
I wrote about the Dining at the El Tovar at the Grand Canyon,  Planning your Grand Canyon Railways trip, All aboard the Grand Canyon Railway, and How to make your Grand Canyon motorcoach reservation at the Mom Central website.
You can find my travel posts here.
Brands I've worked with
Johnson & Johnson
Tylenol
Sam's Club
Panera Bread
Frigidaire
Foodily Ambassador
Attune Foods
Yahoo!
Ziploc
Lipton
Orville Redenbacher Smart Pop
Mountain High Yoghurt
Children's Claritin
Coppertone
U by Kotex
Dreamfields Pasta
California Wine Club
LiveWell Colorado
Hunt's
YumSugar
The Republic of Tea
Microsoft
Diet Coke
Benefiber
Nature's Sleep
Pfister Faucets
Invisalign
Cans Get You Cooking
ARM & HAMMER
Global Stevia Institute
Mizkan (NAKANO and Holland House)
Bundoo
Massel
Applegate Farms
Cascadian Farm
LivingNowFoods
Food for Sleep
Wayfair
McCormick
Avocados from Mexico
eBay Buying
Poise
Udi's Gluten Free
CafeMom
Chex
General Mills
Georgia Watermelon
Kroger
Unilever
Dannon
Mission Foods
SunTrust/Truist
Bush's Beans
Vigo
AstraZeneca
Hormel
My Little Pony
Domino's
Hillshire Farm
Ibotta
Van's Gluten Free Waffles
Stonyfield
Tillamook
Huggies
Hyatt
Litehouse
MARS
Farm Rich
Dove
and many more
I've hosted live events for

:
Feld Entertainment
Glade
Ziploc
Hunt's
I've represented food companies like SOYJOY, Attune Foods, Log Cabin Syrup, and Nasoya at blogging conferences.
Currently:
I'm partnering with your favorite food, healthy lifestyle, pet, and travel brands!
I'm also a mom to two college students, Nathan and Lucie, and wife to Paul, a scientist, avid outdoorsman, and motorcycle enthusiast. We live in West Lafayette, Indiana.
Updated 5/16/23